Written by Lotus on Sunday, 28 of December , 2014 at 9:00 pm
I decided to shamelessly steal from Kevin Glass, my editor at Townhall.com.  He's been posting #BestThingsof2014.  It's a nice break from all the negative news of 2014.  So, here's my list of best things of 2014.
Discovering Charlie Day 
As you'll see, this list is specific to me.  I'm sure all of the people much smarter than me discovered Charlie Day (and Charlie Kelly) much sooner.  After watching "Horrible Bosses" I thought Charlie Day's appeal was elevated because of Jennifer Aniston's character being obsessed with his. Then I watched all nine seasons of "It's Always Sunny in Philadelphia" (FREE on Amazon Prime, btw) in about two weeks and realized the Charlie Day appeal is real.  He gives great comedy, great interviews, and great commencement speeches.  Rock, Flag and Eagle!
Finding Mr. Righteous Selling Out at CPAC
Obviously it was pretty cool that my first book, Finding Mr. Righteous, was published in February of 2014.  However, one of my favorite moments in 2014 was selling out at CPAC.  I returned to CPAC after, ahem, leaving in 2011.  My life has had some ups and downs since then and I was nervous about returning.  I was fortunate to be invited to do a book signing and grateful to my friends and everyone else who came to the signing.  After all the drama surrounding me and CPAC for the last couple years, it meant a lot to finally leave on a high note.
Fundraising Goes Viral
For all the headaches caused by social media, it's wonderful to see how much good it can do to raise money for worthy causes.  The ALS Ice Bucket Challenge was certainly one of the most successful ones.  Another was the Liberty in North Korea fundraising effort after Sony temporarily pulling "The Interview."  Rather than get frustrated at why this cause or that cause deserves as much attention and money, take comfort in knowing that we all have use of powerful social media tools.
Every Simpsons Ever
Christmas came early when the FXX network had a 12-day marathon of every episode of "The Simpsons."  That's 552 episodes.
Chris Pratt Becomes a Huge Movie Star
Everything I've heard about Chris Pratt this year makes me glad that he's become a famous movie star.  He seems like the kind of guy who deserves it and truly enjoys it.  Here are just a few reasons.
I Got to Be on Red Eye with Greg Gutfeld!!!!!!!!
Ok, this should really be at the top of the list but I didn't want to seem too full of myself.  I'm a Red Eye superfan.  To be honest, it's the only Fox News show (ok, any "news" show) that I watch from beginning  to end.  I'll be making my fifth appearance on February 12/3 a.m. on February 13.
All About That Bass
Many have already proclaimed 2014 to be the Year of the Booty.  Whether you're pro-booty or anti-booty, we can all agree that Meghan Trainor's "All About That Bass" is pretty catchy.
Arizona
This year I've had the opportunity to spend a little bit more time in Arizona.  Growing up in Florida I've heard about the mythical "dry heat."   I'm a little weird when it comes to temperature.  I like it hot.  For example, I don't turn on the A/C in the car when it's 90 degrees outside because I spent the day being cold in an office.  I immediately turn up the temperature in every hotel room.  I monitor the temperature in Palm Beach during the winter just because it helps me get through winter knowing that it's warm somewhere.  So, me and Arizona?  We got along just fine.  Well, except one little bump in the road.  The people of Arizona are also pretty cool.  They just elected Republican Doug Ducey, former CEO of Cold Stone Creamery, as governor.  I heard a couple Republicans won in other states, too.
My Name on a Diet Coke Bottle
This one I'm definitely stealing from Kevin Glass.  It was a fantastic marketing campaign.  I found my name three times.  I intended to save one, but drank them all.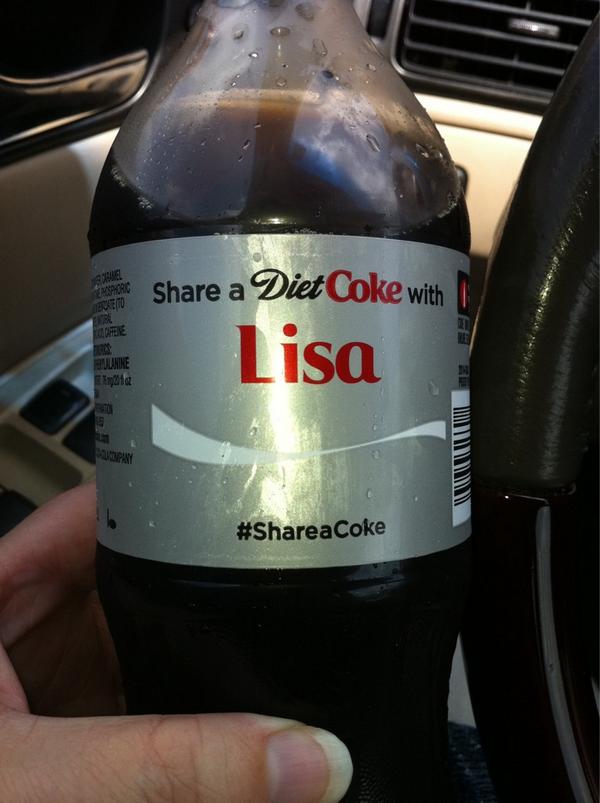 Salted Caramel Everything
Some may say 2014 was the year of the booty, but I say it was the year of salted caramel everything.  I'm not complaining.  It's everywhere.  It makes something like Dunkin Donuts hot chocolate seem exotic.  It makes you not feel guilty about buying a $10 Vosges chocolate bar.  It elevates everything it touches.
The Blacklist
James Spader is amazing as 'Red' Reddington.  I'm usually a late-bloomer (see "It's Always Sunny…") when it comes to TV shows.  If it's on a premium channel, I haven't seen it.  To this day I've only seen the last 15 minutes of the "Breaking Bad" series finale.  I seem to be the only person in DC who hasn't seen "House of Cards."  So, I'm pretty proud of myself for getting on the Blacklist bandwagon early.
Dinner at Flip Burger in Atlanta
Probably the best meal I had this year was at Richard Blais's Atlanta restaurant, Flip Burger.  I started with a Nutella and Toasted Marshmallow Milkshake.  Then my date and I split the pimento cheese wontons.  For my entree I had the Southern burger — a country-fried burger patty topped with pimento cheese and Coca-Cola ketchup.  I prefer to skip the bun because it just gets in the way.  When I went back to Atlanta for my birthday, I stopped by again just for the milkshake.  Good stuff.
Liz's Wedding
My friend Liz had an amazing Pinterest-inspired wedding that, I have to say, was totally overshadowed by the beautiful bride.  There are some rom-coms that give me the warm fuzzies, but seeing Liz and her new husband and their commitment to one another really makes me believe that happy endings are possible.
***
So, that's the best of 2014.  Since there are still a few days left, I'll probably add a few more.
Comments Off

on Best Things of 2014
Category: Random Stuff
No Comments
No comments yet.
Sorry, the comment form is closed at this time.